"Seven Churches of Revelation" Tour
This amazing pastors familiarization tour of Turkey is created specifically for clergy and their spouses.

Library of Celsus
DAY 1
USA / ISTANBUL
Flight from USA to Istanbul.
---
DAY 2
ISTANBUL / OLD CITY
Arrive in Istanbul, the city that bridges two continents, "Europe and Asia". Meet your private driver and transfer to the hotel for check in. Evening at leisure. Dinner & overnight at the hotel.
---
DAY 3
ISTANBUL / IZMIR (SMYRNA) / PERGAMON
After breakfast depart for the site of the famous Hippodrome where you will see the obelisk of Theodosius with its 4th century reliefs. From there walk to the Aya Sofya, the great church built by the Emperor Justinian. The Church of the Holy Wisdom, known as Hagia Sophia, is a former Byzantine church and former Ottoman mosque in Istanbul. Now a museum, Hagia Sophia is universally acknowledged as one of the great buildings of the world.  Next, visit one of the city's greatest monuments – the Sultan Ahmet Camii (Blue Mosque).  Built in the early 17th century, it is famous for its great dome, six minarets and an interior covered in blue Iznik tiles. Drive to the impressive 5th century Theodosian Walls and the nearby Kariye Museum. Once the Church of St. Saviour in Chora and dating back to the reign of Constantine the Great in the 4th century, much of the structure you see today largely dates from the 11th century.  Once a mosque, it is now a museum famous for its superb mosaics depicting scenes from the life of Christ.  After a short drive visit the 11th century Fethiye Camii, the former Pammakaritos Orthodox Church, which has exquisite 14th century mosaics. Afternoon walk to Istanbul's Grand Bazaar, one of the world's oldest markets. Evening at leisure. Dinner & overnight at the hotel in Istanbul.
---
DAY 4
IZMIR (SMYRNA) / PAMUKKALE
After breakfast check out of the hotel and transfer to the Istanbul Domestic Airport for your flight to Izmir, flight will be one hour to Izmir, (Smyrna, Book of Revelation 2: 8-11), Homer's birthplace on the Aegean coast. Smyrna was a wealthy city of the Roman Empire, the city in which St Polycarp lived and was martyred. Upon arrival, drive to Pergamum (2:12-17) to visit the Acropolis and Asclepion, the Medical Center of thermal cure. Proceed to Thyatira (Akhisar) (Revelation 2: 18-29, Acts 16:14), a city of artisans' guilds in St. Paul's time.  St. John's criticism of Thyatira in Revelation is related to the prophet Jezebel. St. John saw the challenge to Christianity which Thyatira represented as a moral decay among the members. To those who refused to compromise with their ideals he promised "the star of dawn" and "authority over the "nations." Drive back to Izmir and check in to the hotel in Izmir. Evening at leisure. Overnight at the hotel in Izmir.
---
DAY 5
PAMUKKALE / KUSADASI
After breakfast, visit two of Seven Churches. Drive to Sardis, one of the most picturesque areas of these seven cities. It is here St. John expressed his concern for pushing further with the progress of the city's faith (Revelation 3: 1-5).  Move to Philadelphia (Alasehir), a favorite city of Paul and John.  Check in to the hotel for dinner & overnight at the hotel in Pamukkale. (Thyatira – Revelation: 2:18-29, SardIs – Revelation: 3:1-6, Philadelphia – Revelation: 3:7-13)
---
DAY 6
KUSADASI
Breakfast at the hotel. Drive to the natural formation of the travertine which is found in Pamukkale (literally translated "Cotton Castle") along with the ruins of Hierapolis.  Proceed to Laodicea (Revelation 3: 14-22; Colossians 2: 1; 4: 13-16), another prosperous city in the chain, where Christianity first spread. On the way, visit Aphrodisias the ancient city of some of the world 's most beautiful architectural wonders, visit one of the largest ancient theaters in the world, the Odeon, Stadium, Bishops Palace, Temple of Aphrodite and the museum with the gorgeous reliefs and statues of the sculptors of Aphrodisias.  Check in to the hotel in Kusadasi for overnight.
---
DAY 7
EPHESUS / KUSADASI
Today is truly special! Drive to Ephesus (Ephesians; Revelation 1: 11, 2: 1-7; Acts 18: 19-28; 19: 1-4). It was the home of St. Paul between 54 and 57 A.D. Nearby we visit the Mary's House on a wooded hilltop where it was miraculously discovered. Finally we stop at the restoration of St. John's Basilica where, according to legend, he was buried. A short drive to Kusadasi which is resort town nearby Ephesus. Overnight in Kusadasi.
---
DAY 8
ISTANBUL / USA
Breakfast at the hotel then transfer to the airport for your flight home.
866.267.2511  MON – FRI 9:00AM – 5:00PM (EASTERN TIME)
Tour Benefits
This pastors familiarization tour of Turkey is a unique opportunity for leaders of the Christian community to study the ancient sites of the seven churches mentioned in the book of Revelations. Explore the wide range of tour options available for hosting your own group to Turkey. Pastor familiarization tours are offered at greatly reduced rates through vendor subsidization.
Istanbul
Hagia Sophia Church Museum; Sultan Ahmet Camii (Blue Mosque); the 5th century Theodosian Walls and nearby Kariye Museum; Istanbul's Grand Bazaar and much more.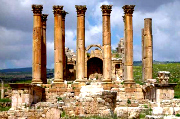 Symrna, Pergamum, Thyatira, Sardis, Philadelphia, Laodicea, Ephesus 
Explore each of the ancient cities of the Seven Churches of Revelation.
Aphrodisias
The Ancient Theater; the Odeon; Stadium; Bishops Palace; Temple of Aphrodite; and the Aphrodisias Museum.
 Sample Features Included
Round trip international airfare: USA / Turkey
Round trip domestic flight in Turkey: Istanbul / Izmir / Istanbul
Airline taxes & surcharges
2 nights Istanbul
1 night Izmir
1 night Pamukkale
2 nights Kusadasi
Touring in a deluxe air-conditioned motor coach
Full breakfast & dinner daily
English-speaking private professional guide
Entrance fees to all museums and sites in itinerary
Service charges and VAT
Tips for the guide & driver
Not Included
Lunches
Personal expenses
Travel insurance – (highly recommended & available at an
additional cost)
Anything not mentioned as included
SPECIAL
Bring your own group (minimum 15 passengers) within a year of the tour & receive a refund of the cost of this fam trip (basic package only).
866.267.2511 MON – FRI 9:00AM – 5:00PM (EASTERN TIME)
Coral Travel & Tours is happy to offer familiarization tours for clergy at greatly reduced rates through vendor subsidization. Are you interested in leading a tour of Christian ministry leaders to Turkey? Call us today or complete our Request a Quote form and a Coral Travel & Tours representative will contact you.
866.267.2511  MON – FRI 9:00AM – 5:00PM (EASTERN TIME)
Deposits and Payments
A $350.00 deposit is required with each reservation form to guarantee booking. The balance is due 60 days prior to departure. All checks should be made payable to Coral Travel & Tours, Ltd.
Tour Arrangements
Air –  Air Arrangements are included in most group tours. Air is available to individual travelers upon request.
Land –  All packages including overnight hotel stays are quoted based upon double occupancy sharing a twin or double room with private facilities. Coral Travel & Tours, Ltd. does not arrange sharing for individual travelers. Single rooms are available at additional cost. Coral Travel & Tours, Ltd. reserves the right to substitute hotels based upon availability when necessary. Sightseeing and entrance fees are included as per itinerary. Individual passengers and passengers arriving independently from a scheduled group are responsible for their own transfers.
Not Included
Gratuities, airport taxes and transfers (unless specifically included in certain group tours), optional tours, charges for passports, vaccinations and inoculations, excess baggage charges, accident, trip cancellation and baggage insurance, telephone and cable charges, laundry, meals not specified in the itinerary, liquor, items of a personal nature and any items not specifically listed as included.
Cancellation Penalties
All cancellations must be in writing
Up to 100 days prior to departure date $75.00 cancellation fee
From 99-61 days prior to departure date $250.00 cancellation fee
From 60-46 days prior to departure date $350.00 cancellation fee
From 45 days prior to departure date and on – full cancellation fee (100%)
Passports/Visa
You will be required to provide Coral Travel & Tours with a copy of your passport with final payment. Please Note: The State of Israel requires that your passport have an expiration date not less than 6 months after your date of arrival in Israel. There is no visa requirement for citizens of the United States traveling to Israel. Other nationals should contact their consulate for visa information. For other destinations please contact Coral Travel & Tours, Ltd. Coral Travel & Tours does NOT process visa applications. No inoculations are currently required for travel to Israel. Please contact public health authorities for further information or other destinations.
Fuel Surcharge
Please note fuel surcharges are set by the airline and Coral Travel & Tours has no control over nor receives advance notice of changes. Due to fluctuating global oil prices, the fee may change. The airline will only guarantee the fee at time of ticketing. If the airline imposes an increase, the difference will be the responsibility of each traveler and will be collected prior to departure.
Insurance Note
Travel Insurance is Highly recommended, See attached information. The Exclusion for Pre – Existing Condition will be waived i9f premium is received at the time of orwithin 14 days of the initial deposit/payment for the trip. See Travel Insurance Certificate for complete details. Travel Insurance Benefits are administered by :Trip Mate, Inc. (in CA, dba Trip Mate Insurance Agency). 9225 Ward Parkway, Suite 200, Kansas City, MO, 6411, 1-800-888-7292, To review full details online, go to: www.tripmate.com/wpF418C.
Baggage
Suitcases: 1 per person, not to exceed 50 lbs. for 1 bag. Each can measure up to 62 linear inches (length + height + width). Carry On Luggage: 1 per person, not to exceed 11 lbs. Each can measure up to 45 linear inches (length + height + width).
Deviations
Any change in the basic program will result in the charge of $150 per change per person plus any additional charges that may apply for revised air or land arrangements.
Disclaimer
CORAL TRAVEL & TOURS LTD. (CORAL), and/or its agents and their representatives abroad, act only as agents for the tour participants in making arrangements for hotels, transportation, touring, restaurants, or any other services in connection with the itinerary. They will exercise reasonable care in making such arrangements. However, they do not assume any liability whatsoever for any injury, damage, loss, accident, delay or irregularity to person or property because of any act or default of any hotel, carrier, restaurant, company, or person rendering any of the services included in the tours. The tickets, coupons, tariffs, rules or contracts currently in use by any carrier, hotel, restaurant, or other contractor rendering services shall constitute the sole contract between such contractor and the tour participants. CORAL, and/or its agents and their representatives abroad, accept no responsibility for any damage, delay, or injury due to sickness, pilferage, labor disputes, machinery breakdown, government restraints, hostile acts, terrorism, weather, acts of God, or any other cause beyond their personal control. CORAL, and/or its agents and their representatives abroad are not responsible for loss of or damage to your luggage, accidents en route, or ill health which may require travelers to miss parts of the tour or to return home without the group. No carrier shall be responsible for any act, omission, or event during the time tour participants are not on board its own conveyance. The tour programs are planned in advance. If between planning time and the actual tour operation, circumstances beyond control require changes, CORAL, and/or its agents and their representatives abroad reserve the right to vary itineraries and substitute components of tour programs. In the event it becomes necessary or advisable for any reason whatsoever to alter the arrangements of the itinerary, such alterations may be made without penalty to the operators. The right is reserved to accept or refuse any person as a member of the tour.
866.267.2511 MON – FRI 9:00AM – 5:00PM (EASTERN TIME)